Podcasting Project for Middle School - Part 1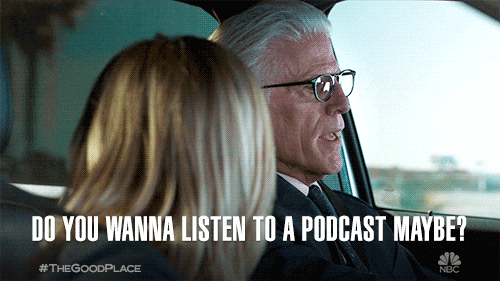 Welcome to the Biggy's Music Room blog! This is my first post and I am really excited to be sharing information about music education with you.
If you're reading this blog, you are most likely a music teacher, so in case you haven't done so already, please subscribe to the podcast for which I am one third a member called Not Your Average Music Classroom (Listen on: Apple Podcasts, Spotify).
Together with my two other colleagues, we have and will discuss various topics related to the discipline of music education. We started this podcast in the spring of 2020, when we were bored out of our minds at home and not going into our school building. We recorded about five episodes, and then had to go on a hiatus, but we are now back with a brand new episode coming out sometime next week.
"The People's revolution is gonna be a podcast" - NOFX
Our first topic I want to cover in the blog is about a massive project I am working on with my middle school students - Podcasting! Before I begin, there's something you need to know about me. I'm not shy to be the weirdest guy that my students have ever met. It's sort of a badge of honor for me. Keep this in mind; you'll see in a few minutes.
Up until this point in their school year, they've learned how to navigate around Soundtrap, and Noteflight, as well as arrange pre-recorded loops, and input musical information into Noteflight. Then, I had this grand idea to teach my students who are focusing on computer music in their general music classes about recording audio, and incorporate elements of music business and economics along with the recording of audio files. Below is exactly the steps I have taken and plan to take in order to execute this project.
Objectives: Students will be able to record and arrange audio files in a cohesive manner. Students will participate in a multi-grade virtual economy by buying and selling musical services in three areas - podcast production, audio/music production, advertising production.
So basically, my students have been tasked with naming their own prices for these services, and in doing so, will compete to make the most money they can producing the best quality podcast they can. I know what you're thinking...what money are they going to use to spend. See below, then you will realize that the level of weirdness that my students have come to expect and accept from me is way beyond what you were thinking in your head. I made this very disturbing currency on Canva, and I will link to you a free template so that you could use it to your liking.
Lesson 1: Anatomy of a Podcast
I am the guy that listens to podcasts. If you read my bio in the About section of this website, you would have found out that I live in Poughkeepsie, New York, and I commute 85 miles one-way to work in Williamsburg, Brooklyn, NY. I wake up at 4:00 AM, and I am out the door at 4:45 AM, 20 oz. of coffee in tow in my Descendents Yeti (not an affiliate link). The only thing I look forward to this early in the morning are my coffee and my podcast rotation.
When I introduced podcasts to my students, my goal was to get them familiar with the many different styles out there. One problem that I ran into was that my podcasts were a little...ahem...inappropriate for children's ears. So, when introducing them to certain podcasts, use caution and preview everything beforehand. That being said, I think it's important for them to know that producing a podcast is a series of choices one has to make.
What I would do is give them a brief history of podcasts. Who were some of the first people to pioneer
Some of those choices are as follows (try to have listening examples ready for them):
Choosing whether or not to have intro/outro music, sound effects, background music

Choosing to go solo, have a co-host, or more than one co-host

Choosing between a point on the scripted-unscripted continuum

Choosing to have sponsors

Reading ads yourself, or having commercials produced

Having sound effects, background music, or nothing.

Choosing your format type
One big choice they have to make is what kind of format would their podcast take (again, have some examples ready so that they can hear what it sounds like):
One-on-one Interviews

Solo commentary

Panel

Non-fiction narrative storytelling

Fictional storytelling

Hybrid (mix-and-match)

Repurposed content
Discussion Ideas:
What elements of making a good podcast resonated with you the most?

What are some different podcast formats, and of which would you prefer to listen?

Talk about what you would like to do for this project (topics for the podcast, format ideas, advertising ideas, types of background music, or creating intro/outro music)
Lesson 2: Advertising
This was a separate project that I had done in the before-times. I had purchased this project from the Teachers Pay Teachers store Jooya Teaching Resources. I was planning on doing this project with my students this year, but in my planning, I figured I would go big or go home. So, I combined these two projects. It's a great resource to have in your arsenal, so I would highly recommend giving it a shot, but I definitely had to tailor it to my needs, and cut out a few things.
I would also, ahead of time, figure out a way to find a lot of different ads that are relevant to your students now. This is one issue I ran into - some of the greatest ads of all time that demonstrate the musical concepts perfectly were SO completely outdated. Go ahead and let that stinging comment simmer for a bit...I'll go grab a cup of coffee...Are you all better now? Yes, that one stung hard. I would suggest finding newer ads, like YouTube or TikTok ads. It may be a little more difficult with the latter because it's a little more difficult to find suitable ads that align with the concepts put forth in the resource.
Discussion ideas: If you didn't want to make this a huge project like I'm doing where it's almost impossible to plan, I'd suggest maybe coming up with something at the end of this lesson for a quick assessment, perhaps have the kids try to come up with a fake product (or maybe you can even give them a fake product), for which they write a short jingle melody.
Lesson 3: Planning
This was their first time interacting in a group setting for this project. I made some worksheets templates that I will post here for free that will help students plan for their own podcast, music creation session, or advertising session. I am treating every single group as if they were a business, and I am taking it very seriously - almost to a detriment. Look, this isn't a Licaribuck stimuli. This is the Bank of Licari. You must apply, and I will comb through your application! Fortunately, the application is really simple. I clearly didn't take the time to make this document pop with color. It's a simple page. Not everything is pretty. Life isn't pretty! This is how real Mr. Licari gets.
Podcast Project Planning Document 1
.docx
Download DOCX • 14KB
Once they have completed the initial application to the Bank of Licari, I literally make them wait 5-7 business days to see if they were approved (it works out that the next class was day five. I'm not THAT mean!). Once they are officially approved, they start planning their first production. I have them use the following planning documents, depending on which venture they are going into (podcasting, music making, or advertising):
Podcast Project Planning Document 2
.docx
Download DOCX • 14KB
Podcast Project Planning Document 3
.docx
Download DOCX • 14KB
Podcast Project Planning Document 4
.docx
Download DOCX • 14KB
Stay tuned in the next week or so for the last few lessons about this Podcasting Project for Middle School. Don't forget to subscribe to the newsletter at the bottom of the homepage to receive news about special deals on my Teachers Pay Teachers page. Also, please support us music teachers and subscribe to my podcast Not Your Average Music Classroom (Listen on: Apple Podcasts, Spotify).
Have fun!